Soccer Teams Reaching Goals
The arrival of the new year marks the start of league competition for all winter sports, specifically the boys and girls soccer teams. Both teams have had impressive performances throughout the duration of their seasons as well as some flaws that they aim to solve.
Girls soccer head coach Whitney Wood said she is happy about her teams' performance so far this season, but that there's been some struggles as well.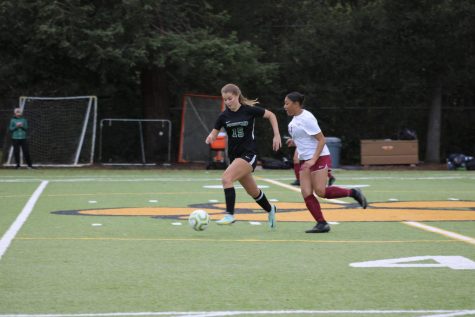 "[The preseason had] some wins and really good team effort," Wood said. "[We are] struggling with a winning mindset as we face tougher teams."
However, Wood said she remains confident that the team will start winning more difficult games in the future. The girls team has had a multitude of special moments throughout the course of their season, but one game in particular stood out to Wood.
"My favorite moment [was] our game against Cupertino High School," Wood said.
The Panthers faced the Pioneers in a late night matchup under the bright lights of the Firebird tournament. As both teams fought throughout the first half, Pinewood went down 1-3. However, the second half was a different story as Pinewood clawed their way back into the game to tie it up at 3-3.
"[Junior] Charlotte Van Gent, our leading scorer, scored a hat trick," Wood said.
In the final minutes, Cupertino scored a last minute goal, but the takeaway of the game was Pinewood's inspiring comeback and hard-fought play.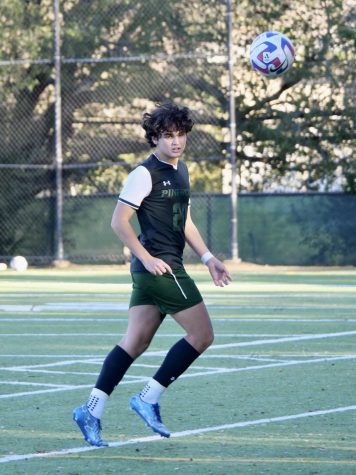 The boys soccer team also competes as fiercely as the girls team. Captain and senior Jason Rowe has positive things to say about his team's performance so far.
"The season has gone well so far, even though we have yet to play our best," Rowe said.
Looking toward the future, Rowe hopes that his team can keep improving, yielding better results in upcoming games against tougher opponents. Rowe has some favorite moments of his final season as a Pinewood soccer player.
"My favorite moment was playing our first home game against Sacred Heart," Rowe said.
Despite a tough start, the team managed to win the second half against a fierce competitor. Rowe said that he enjoyed the feeling of being back on the field. He said that defense has improved since last season and it has benefited the team greatly. "This season the freshmen have stepped into the roles that three departing seniors left in the back line," Rowe said.