Freshmen Shine For Volleyball
   The beginning of a new school year signifies the start of the fall sports season. For the second year with lifted covid restrictions, the girl's volleyball team is back with daily after-school practices and weekly games. Head coach Jennifer King leads a young team with an abundance of promising underclassmen.  
   The season is already halfway through, but head coach Jennifer King believes the team will continue to improve.
   "I think we are going to have a solid season," King said. "It'll be fun to see where we can go and what we can do. I'm seeing some really cool skills develop during practice. I can't wait to see it happen in a match."   
  Possibly the most exciting aspect of the season thus far has been the emergence and involvement of many of the freshman players. In particular, freshmen Mailey Wang and Caitlin Yamaguchi have been able to make large impacts on the court. When asked if this change has been difficult, both girls shared that being "evergreens" and having played middle school volleyball together at Pinewood have made the transition much easier. Coach King shared similar sentiments. 
   "I believe that given they were already on campus last year, they already knew how it's going to be in the program," King said."I coached them in Junior High, and they already knew the expectations… They are doing a great job!"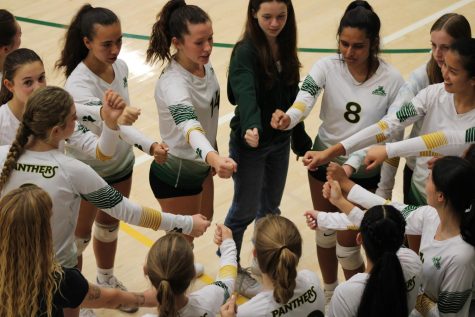 The freshmen players' quick improvement has impressed the coaches. 
   "[Yamaguchi] has come a long way from the beginning of the year," King said. "She's trying to learn a position that requires a lot of strategy." 
   For Wang, King was impressed with ability to serve.
   "The best part is that she is so bubbly on and off the court," King said.  
   As the team has spent almost two months practicing together, bonds and chemistry have been built between the girls. They continue to improve every single day, and the results are showing.
Leave a Comment