The Baby Briefing: Pinewood Welcomes New Infants
Sleep deprivation. Changing dirty diapers. Balancing school and home life. For the past few months, this is how two teachers here at Pinewood School — high school physics teacher Yong Kim and musical theater and teacher director Carrie McRobbie — have been living.
Kim's baby, Josephine Kim, was born on Oct. 20, 2022. At three months old, she is already smiling, cooing, and having fun with tummy time. She loves the thrill of sitting in a car, especially the feeling of speed.
Kim thanks the Pinewood community, friends, family, and especially his wife for helping him through this difficult experience.
"I knew [my wife] was strong, smart, and kind-hearted, but the past [two-
plus] months of seeing her as a mother have taken those characteristics to a whole new stratosphere," Kim said.
Having an infant at home can be tiring, and so much harder than Kim could have ever imagined. However, he feels there are so many rewarding aspects of raising a child and that all the work and time is worth it.
"The intensity and joy of being a parent to a newborn is… 24/7… constantly learning what is the best fit for the kid, then realizing she's grown up a bit, and what wasn't working yesterday, suddenly is today," Kim said.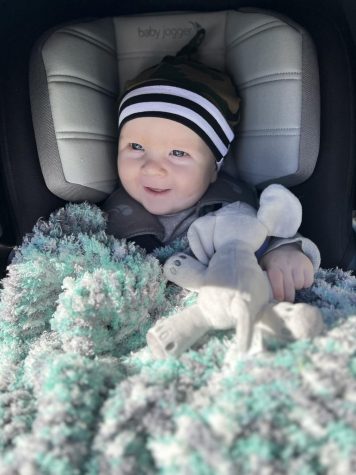 McRobbie is going through a similar experience, but with her fourth child rather than her first.
Jude McRobbie was born on Sep. 16, 2022. He just turned four months old, and is quite a strong baby. He is always holding his head up high, roll- ing around, and jumping. Jude is a smiley baby and is adored by his three older sisters, who are old enough to help with little Jude. McRobbie's husband is excited to have his first child and a little boy. A soccer coach, he is already ready for them to play soccer together.
Like Kim, McRobbie is also challenged while balancing her two lives. Even though her job is very time-consuming, she believes in carving out time for herself as well. She tries to spend as much time with family as possible, savoring every moment with her little son.
"I have an entirely different perspective on life these days. When I look at his sleeping face, it reminds me of why all the tough days are worth it," McRobbie said.