Production Class Brings Digital Announcements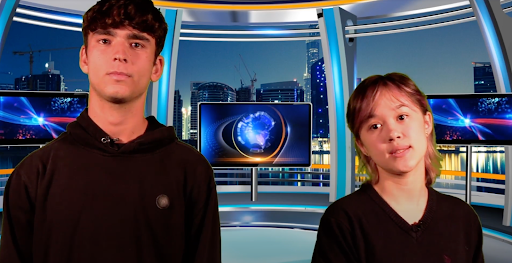 This past year, Pinewood has added a new course to their curriculum: The Audio and Video Production class.
Run by teacher Rob Bergenstock, this class has become the studio for the new morning announcements. Previously, the morning announcements were given on the loudspeaker every Tuesday during Advisory, and before that, they were presented via a pre-recorded video. Both of these methods ended, but an even bigger and better idea has come through the collaboration of Principal Gabriel Lemmon and Bergenstock. 
"Mr. Lemmon has been wanting to do the morning announcements live on video for a long time since he came to Pinewood. He knew I had some audio and visual skills and he said he thinks that I might be the guy to make this happen," Bergenstock said.
The morning announcements went live because it provides better entertainment for the viewers, and the visual aspects make it easier to follow along. Bergenstock says that he plans on keeping the announcements live for as long as he can. The morning announcements will be held every Monday during second period, where information will be given about sports games, upcoming events, the weather, and the weekly "funny video of the week."
Now, what really goes on behind the scenes?
"We've got a two-camera setup with a green screen for the background," Bergenstock said. "Those cameras feed into a video switcher which controls which camera is live at that point. That feeds into the computer and then we use a program called OBS which handles all of our graphics and backgrounds."
"We also have something called lower thirds which puts the name of the person underneath, and while they're speaking that's all handled through OBS," Bergenstock said. Then, we stream out the OBS output to a zoom webinar which then everyone can log on to."
Of course mistakes are prone to happen, but a lot of hard work goes into making the morning announcements enjoyable for the student body.
With that being said, be sure to expect your daily dose of Pinewood's upcoming news every Monday, so sit back, relax, and enjoy the show.
Leave a Comment