PSP Summer: An Exploration in Social Justice and Business 
In the week before the first day of school, many students were frantically searching for school supplies and adjusting their sleep schedules. Those enrolled in the Pinewood Scholars Program, however, spent the time exploring nonprofit organizations with their teacher, Michelle Gannon. 
The Pinewood Scholars Program is a two-year social entrepreneurship course. In 11th grade, students work on group projects to improve their communities. In senior year, they create individual projects, which can be a completely new idea or a derivation of their group project idea. 
The summer trip, called the "Summer of Leadership and Discovery," began with a visit to Code Tenderloin in San Francisco, an organization that teaches the unhoused to code so they can get stable jobs.
Gannon said her favorite moment from the entire trip was when the students set up a table and handed out COVID-19 supplies, sanitation products, and flyers about Code Tenderloin. 
"I think it was a really neat moment for us to realize that literally all you need is a table and a smile," Gannon said. "You can literally just set up a table and make a difference."
At the end of the first day, PSP students visited the Ferry Building to learn more about food insecurity. On the second day of the trip, students gathered at Gannon's house, where they wrote down intentions, reflected in journals, and created vision boards of their hopes for the future in both PSP and beyond.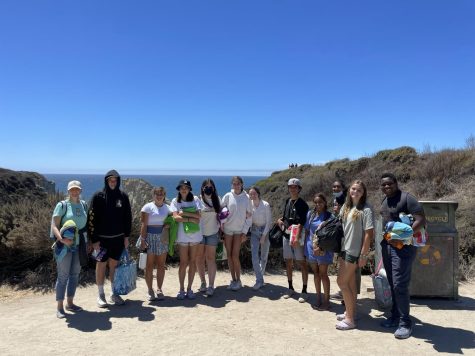 Students visited three organizations on the third day of the trip: Hard Core Compost, which collects compost, the Homeless Garden Project, which employs the unhoused to give them work experience, and Swanton Berry Farm, where students learned about the farm's fair practices. The group then camped at Costanoa, which was senior Carolyn Steeg's favorite part of the trip. 
"We enjoyed the sunrises and sunsets, bonding with our classmates, and creating lifelong memories," Steeg said. 
On the last day, students toured Pie Ranch and learned about sustainable farm practices. 
PSP has since made two more field trips. During their tour of the Montalvo Art Center, the students learned about how the center is improving accessibility and how it supports artists. At the New Museum of Los Gatos, students viewed unique exhibits created by local artists. 
The trips that PSP takes, from the summer adventure to the short trips throughout the school year, educate the students about both the business aspect of organizations and pervasive social problems. Through the locations Gannon chooses for the trips, she has stressed the importance of becoming aware of social issues. 
"Most of us live in a bubble," Gannon said. "Learning about what's actually happening outside of our door is important for us to be citizens of the world." 
Leave a Comment