And Now… A Brief History of the Panther Pit
Whether it be chanting "you can't do that" when the opposing team commits a foul or screaming with joy as the home team makes a basket, the Panther Pit has been a staple of Pinewood basketball for years. As a member of the varsity basketball team myself, I can safely say that the Panther Pit is unmatched in its ability to energize the team and create lasting memories for the players. 
Pinewood Director of Student Life Kyle Riches seems to agree.
"I think having that section full of loud and spirited students can really make a difference in how our teams play," Riches said. "Some of my favorite memories here at Pinewood took place in that gym and the Panther Pit was a huge part of that."
And create memories it did. On Feb. 10, Pinewood basketball teams celebrated Senior Night and their accomplishments across their four years at Pinewood as an athlete. Both the girls and boys teams got the victory, and the students in the Panther Pit stormed the court. The image of that sea of green and gold engulfing the team in celebration will be ingrained in my mind forever.
The Panther Pit started out as a modest student section of the Pinewood gym. In 1985, the Pinewood gym finished construction, and with it came the student section. However, according to Pinewood President and Head Of School Scott Riches, the label "Panther Pit" came later from a handful of students at Pinewood.
"It was around 2006-2010 when it formally became the 'Panther Pit' based on the recommendation of some students," Scott Riches said. "During that time the students created poster paper and taped the name of the Panther Pit on the wall and after several years we permanently painted the name 'Panther Pit'."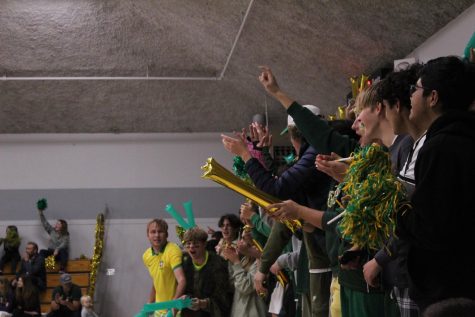 Fast forward to today, and the lasting legacy of those students is being carried on by some of Pinewood's most spirited students. Pinewood Student Leadership Committee (SLC) president Daniel Blotter is one of these individuals.
"I am so motivated to be so active in the Panther Pit, because not only is it helpful and fun for the players on the court, but it is also a lot of fun to be supportive, energetic, and wild in the Panther Pit with all of your friends," Blotter said.
Sophomore Jamie Burton is another example of the spirit Pinewood students exhibit. 
"To get those packed-house nights where everybody shows up and is getting in on the cheers and having a good time, have been some of my finest high-school memories of all time," Burton said. "There's an electricity to it that's palpable, and it's that feeling of community and togetherness that keeps me coming back."
The Panther Pit's presence on campus has been a symbol of Pinewood's unity and collectiveness, and it has and will continue to provide a fun way to support the teams and interact with other students. SLC Spirit Representative Nate Martin agrees.
"I think the Panther Pit represents the connection and strong sense of community that Pinewood has," Martin said. "It doesn't matter what grade you're in or what clique you're a part of, everyone can come together in the Panther Pit and have a great time with their fellow students."