Spinner: "To Every Student at Pinewood…. Play That Sport"
The last time I played a competitive soccer game was on my elementary school field. It wasn't a full-sized field, nor was it painted with line markings, but rather a massive grass area divided into four different soccer pitches, each separated and marked with four orange cones. It was fourth-grade American Youth Soccer Association, where our dads were the coaches, referees, or even both. I played for the Blue Ninja Pandas, the name my team chose, thinking it was the coolest thing in the world. 
Eight years later, I am now a senior. I have played tennis all four years of high school but have never even tried another sport during my time on campus. You won't find a bigger Pinewood sports supporter than me. Whether at basketball or football, you will almost always spot me in the Panther Pit or on the sideline. I have always wanted to try one of these sports, but like many of you are now, I was an exhausted high school student just trying to stay on top of my assignments without the time or motivation needed to commit myself to a team.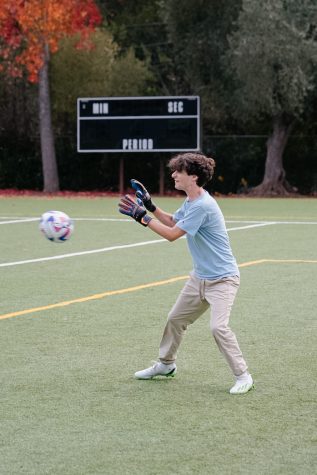 Last year I watched the Pinewood boy's soccer team have an incredible season. Since most of the group consisted of many of my closest friends, I heard nonstop about how much fun they were having and how we needed to watch their games. I wanted to be a part of this excitement and went to the following three home games, each more exciting than the last. I saw how much of a blast each player was having, whether on the field or celebrating from the bench. I wished I could be on the team, but knew it was too late as the season was winding down.
However, my excitement to join the team this year faded. The stress of senior year courses on top of college applications has made this semester the most challenging and daunting few months of my life. I thought there was no way I could dedicate any of my time to another sport. 
This changed a few months ago. With the season approaching, the team's chatter and excitement surfaced again. My friends started talking about it and eventually were able to convince me to join. The schedule has aligned perfectly for me, as many of my college applications are due on the same day the season begins. With this weight off my back, I could not be more excited to run out onto the field for the first day of practice.
I am not writing this article just to tell you about my story and life; I am writing this article to inspire you to take the leap I am. Whether you are a seventh-grader, a freshman, or a senior, it is never too late to put yourself out there and join something. That's the beautiful thing about Pinewood: you can make your time on campus whatever you want it to be. 
I have no idea how good I will be. Heck, I haven't even played since I was nine, but this doesn't matter to me. Whether I go out and play great or go out there every day to improve, have fun, and encourage my teammates, I know I am doing something that makes me proud. I want to graduate with no regrets…no sadness due to not doing something I wished I had done.
I advise you to listen to your peers' words of encouragement. Don't be scared to put yourself out there. Do what makes you proud. If you had told me a year ago I would be preparing to play soccer, I would not have believed you. I even had to convince my mom to let me play last weekend. 
To every student at Pinewood, take that risk, play that sport, or join that club. Time in high school goes by faster than you could ever imagine, so put yourself out there, and you won't regret it.