Pinewood Celebrates Homecoming with Disco Roller Skate Party
Rolling into the new school year, Pinewood seniors revisited their freshman year homecoming at a roller skating rink on Friday, Sep. 30. 
Commemorating the past and celebrating the year to come, this year's homecoming serves as a reminder of the time our seniors have spent at Pinewood. 
"I think it's really important that we remember all of the moments we had in high school, and for us, that really started freshman year," Student Leadership Council Sports Representative Ashton Riches said. "We wanted to go back to the roller rink because it's our senior year and we wanted to go back to the place we had it freshman year."  
SLC President Daniel Blotter wanted to give Pinewood students a homecoming they would enjoy and remember.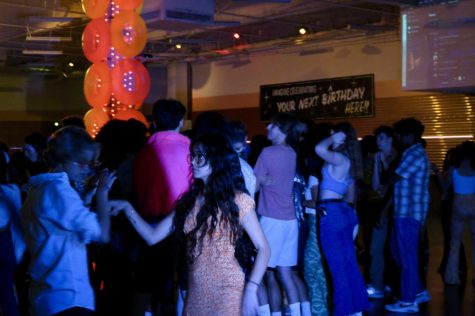 "When we [hosted homecoming at] the roller rink [in previous years]… it was a huge hit and everyone had a really fun time," Blotter said. "It [is] a great medium between having fun and socializing, as well as dancing."
The work that the SLC has done for homecoming began during summer break and stretched well into the school year. Since former Activities Director Jackee Bruno left Pinewood, the SLC has taken on a larger leadership role in planning events and spirit days. Pinewood faculty and staff have a say in the planning process, but the student councils and SLC ultimately take control. When the SLC suggested the roller rink for homecoming, it was up to them to organize the dance. 
"I really try to make it so that the SLC takes the lead," Director of Student Life Kyle Riches said. "They're the ones reaching out to places, they're the ones contacting people, and they're the ones making the decisions." 
Blotter hopes that this year's planning and event decisions will reflect the spirit of the Pinewood community. 
"We have a bigger say now in how our activities look and how they turn out," Blotter said. "If they go well [we'll] be proud and say 'that was us,' and if it doesn't, we can learn for future activities." 
Encouraging school spirit around homecoming and other events at Pinewood, the SLC has also reintroduced the Middle Campus tradition of Pine vs. Wood with the confidence that it will bring students together.
"It was really fun to get to know people I might not otherwise talk to, and that kinda helped our school spirit," Blotter said. "We wanted to bring something like that back." 
Leave a Comment