Bomb Cyclone Bombards Admin
Despite the recent weather giving way to floods, power outages, and school closures, the Pinewood community has made efforts to be anything but stormy. 
For senior Myles Fox, the commute to school has always been an opportunity for long naps. Each morning, Fox must wake up at 6:15 a.m. to make a drive from Morgan Hill to Pinewood, ranging from 45 minutes to an hour-and-a-half. 
On Monday, when Pinewood's closure was first announced, Fox had already taken a shower and had begun to get dressed. Although the notice was issued too late to keep him from getting out of bed, Fox had not left the house yet and was able to go back to sleep. 
"When you get up early in general, it is nice to do a little bit of sleeping-in," Fox said. "But having online days isn't always the most convenient." 
On some days, however, Fox realized that school closures and online learning was the only way he would be able to go to school. 
"There were times that there was so much water where I live that my mom wasn't sure she'd be able to pick me up," Fox said. "There was a notice in Morgan Hill that said that they shouldn't even go out of the house because it was so flooded."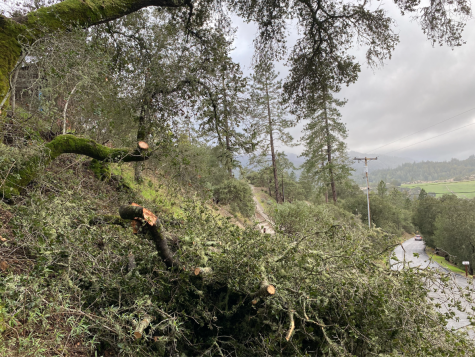 These road closures also proved an obstacle for math teacher Sara Dorset. Living in Pacifica, Dorset usually makes it to school in around 35 minutes. With the recent weather though, it is now taking her over an hour. 
"There's this huge sinkhole on highway-92, so the whole highway was closed," Dorset said. "It takes up a whole side of the road, so now only one side is open."
While the teachers receive notice of the school closures at the same time as students, the administration works well before 6:30 a.m. to look at the impacts of the weather. 
Principal Gabriel Lemmon starts communication with administration at 5 a.m. to determine the school's closure status, but there were times in which he could not even make it to school himself.
Living in the Santa Cruz Mountains, Lemmon experienced harsh wind during the storm and was forced to manage property damage during the school closure. 
"I woke up one morning, looked out the window, and there was a tree that fell right in front of our front door," Lemmon said. "I spent the rest of the day with a chainsaw, cutting up trees and trying to manage our fences that also came down." 
Although the past few weeks have been a tough adjustment for some faculty and students, the Pinewood administration is working hard to find new solutions to accommodate the weather and the students who are most impacted by school closures.
"I'm glad that the school is working to keep us safe," Fox said. "I think that that's really good on them."