The Meaning of Photography
With the click of a camera, two fleeting moments are captured forever — one, the visual masterpiece that lays within the border of the photo, and two, the story behind it.
S.M. Lieu, a Los Altos resident who takes photos as a hobby for the Los Altos Town Crier, cherishes the beauty of photography for this reason.
"It's just the way the light hits the water and the reflections, or it may be two people interacting, but [photography] just grabs that moment and keeps it still," Lieu said. "And I will always be able to go back and remind myself of that moment in time."
When Lieu first picked up a camera at age eight, she remembered it as a little plastic brownie film camera she carried around to take pictures of her friends. Through the years, both her camera and photography experiences have evolved. She took on a job as a software engineer in Silicon Valley, but always kept photography as a hobby. Since retirement, Lieu has found more time to take photos of anything and everything, ranging from nature to geometrics.
"What really matters is loving [photography]," Lieu said.
Junior Colin Ternus, a Pinewood journalism photographer, feels similarly about photography. With every photo he takes, he tries to have it tell a story, whether it be a bird on the hunt, a car racing by, or a landscape shifting in the distance. Ternus said that what he most appreciates about his favorite photo, a picture of the Dubai skyline, is that he took it on an iPhone 6.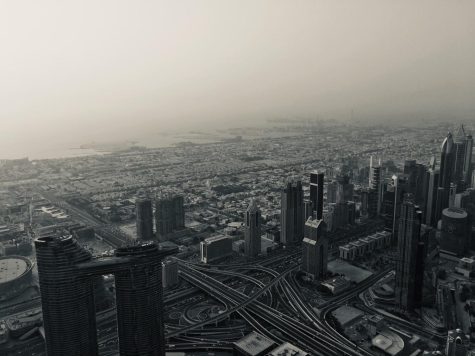 "It serves as a reminder to me that you don't need a great camera in order to take a good photo," Ternus said. "You just have to make do with what you have, and more often than not, what you have is good enough for anything."
Sophomore Gabby Yang, a yearbook and journalism photographer, also treasures landscape photography. At school, though, she is drawn to photographing sports, as she feels it is connected to her own basketball experiences.
"As an athlete, I can connect to both sides of it — from the athletes point of view and the photographer's point of view," Yang said.
Yang enjoys playing around with different angles and camera settings in order to capture the perfect action shot.
Regardless of the genre, every photographer knows there is so much more outside of the borders of a picture.
"Photography helps us capture and store memories, and it gives us a portal into our past and into other worlds," Ternus said.