Linden Tree Visits Pinewood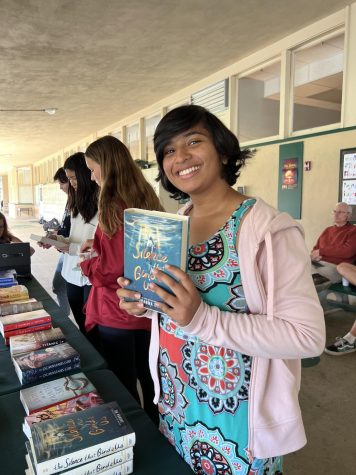 The two lunchtime Book Discoveries hosted this year featured students gulping down ice-cold milk, plates piled up with cookies, and a colorful and diverse spread of popular novels. 
   English and social studies teacher Michelle Gannon, who has been coordinating the Book Discoveries, believes that they create a unique opportunity for students to talk about books with each other. 
   "The idea [of the Book Discoveries] started by wanting to create a forum for the students to be able to discuss literature and to interact with each other about the beauty and joy of books," Gannon said. 
   At each Book Discovery, students listen to a bookseller talk about book recommendations for their age group before buying any books they're interested in from the copies the bookseller brings in. 
   For students who don't read often, the Book Discoveries are intended to demonstrate that it's possible to read outside of the classroom for entertainment and to foster a love of books. 
   Additionally, the events encourage students to support small businesses. They're hosted by Linden Tree, an independent children's bookstore in Los Altos that entertains a diverse clientele, from parents seeking out a book for their children to young adults trying to find something new to read on their own. 
   "We've always been — and will always be — a children's bookstore first, but we strive to have something on the shelves for everyone," the owner of the store Chris Saccheri said. 
   Gannon said that Pinewood chose Linden Tree because it's a small, local business, citing the struggles small booksellers have faced with the advent of Amazon and other larger book distributors. 
   "We wanted to be able to have Linden Tree to get a step up," Gannon said. "It would be sad if we lost all of these local bookstores."
   The Book Discoveries will hopefully ignite a lifelong passion for reading in students that will translate to them supporting small, independent booksellers.