Responding to Tragedy: Parents, Community Commemorate the Life of Former Pinewood Student Jonathan Zhao
"He persevere[d] through everything, and [it was] not [always] apparent to others," Suzanna said. "You can see it through the way he react[ed] to his treatments, and when he came to America in 2014 [as he only learned English after coming here]… Every competition, every practice, and… [his] time living in the hospital… really demonstrate[d] his perseverance, even as a young child."
Jonathan's parents held a Memorial Service at Skylawn Funeral Home on April 29. That's where friends and family had the opportunity to celebrate the former football and soccer player. Attendees participated in a variety of events, such as a variety of quiz-style Q&As. People also listened to speeches from fellow students, friends, and faculty from Pinewood School and Challenger School, Jonathan's elementary and middle school.
The intention for the celebration was for attendees to be "… more [like] Jonathan with a smile, with laughter, with humor, with energy… If we [had] too many tears, I don't think he [would] be happy," Bill said.
Friends and family had the opportunity near the end of the Memorial Service to place flowers on top of Jonathan's burial site as well as take home miniature succulent plants to remember Jonathan. Moments like these occurred throughout the ceremony and were somber, if not tearful.
Head of Upper Campus Gabriel Lemmon, who gave a speech during the Memorial Service, said that Jonathan's death was difficult for him and the rest of the Pinewood community.
"The thoughts that were going through my head were the ones around just the grieving process… the thoughts of losing a student and just how tragic that is," Lemmon said. "We're going to have to [go] through the process of figuring out how to go on without one of our fellow Pinewoodians."
In the fall, Pinewood will hang an engraved wind chime by the Upper Campus field in honor of Jonathan.
"The thought of putting it next to the field [was] so that people could remember [Jonathan] because he was into both soccer and football."
In addition, Pinewood will retire Jonathan's #13 Pinewood soccer jersey as well as his #28 football jersey.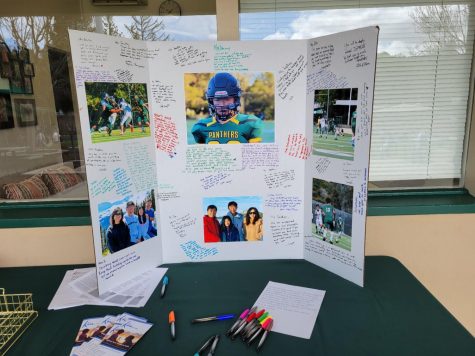 There will be one more celebration of Jonathan's life. On May 6, the Zhao family arranged for Pinewood students and family to watch a soccer match between the San Jose Earthquakes and the LA Galaxy at Levi's Stadium. Pinewood students and family can purchase tickets to the soccer match through a FEVO special offer link distributed through Pinewood email communications. Jonathan played on Pinewood's varsity soccer team, continuing his passion for the sport outside of school through his playing time as a part of the Mountain View Los Altos Soccer Club and the Palo Alto Soccer Club.
Jonathan's parents said he met with numerous Earthquakes players during his time in the hospital, including goalkeeper JT Marcinkowski, captain Jackson Yueill, and former Earthquakes player Joe Cannon.
"[The soccer players] regarded him as a hero… [for his] perseverance [and] bravery [in fighting] with his disease," Bill said.
Jonathan's parents said their son had a variety of other passions, including aspirations to work in the medical profession.
"Recently, his passion [had] been his want to be… a doctor or a nurse," Suzanna said. "He used to [be] passionate [about being] a businessman… He also [had] a strong interest [in investing]."
While Jonathan's passions had evolved over the years, his parents said that soccer played a consistent role in their son's life. Jonathan's experience as a part of the Pinewood varsity soccer team always held a special place in his heart.
"
"[His club team] would rank top 8 in California," Bill said, noting that Jonathan also loved playing on Pinewood's soccer team. "… He [was] proud just to play for the school, for the community."
Jonathan's parents are starting a new nonprofit called the "Teaching Nirvana Foundation" in order to support teenagers like their late son. The foundation will support young people impacted by the possible side effects of vaccines, protect the rights of parents with young hospitalized patients, and empower parents to get second opinions.
"This is our special arrangement for Jonathan to memorialize him and to really carry on his virtues and his kindness," Bill said. "… This will be a lifelong project for me and even for my wife, and maybe for [Jonathan's] little sister in the future."
Biology teacher Monica Ventrice said that Jonathan's determination is what she'll remember most. 
"Jonathan's drive to keep going is what I will remember most," Ventrice said. "During the first semester, when he wasn't feeling well, he would still come to class everyday, ready to work. And even from home and the hospital, Jonathan was checking in with me about work so that he could keep pace with his class. He was determined to continue on with life."