A Review of Black History Month Activities: Oriki Arts' Pinewood Performance
Black History Month, also known as African American History Month, is the annual celebration of Black history in the United States and recent celebrations in the Pinewood community have reflected this. Such celebrations have been represented in the Pinewood community through two recent assemblies: "African Drum and Dance" and "Sankofa: Africa to America."
As a way of remembering and celebrating the African diaspora, Chike Nwoffiah and his team at Oriki Arts have collaborated with Assistant Head of Upper Campus Haley Hemm to create the collective idea for the "Sankofa: Africa to America" assembly to educate the community on African diaspora through singing, dancing, and music. The group made its first appearance at Pinewood's Annual International Week at the "African Drum and Dance" assembly. 
It was due to the joint effort between the Diversity, Equity, and Inclusion Committee along with President and Head of School Scott Riches, Head of Upper Campus Gabriel Lemmon, and Hemm that the community assembly was possible in demonstrating Pinewood's core values.
"I think it was effective in showing what Pinewood wants to be about and and what we've been doing in the past year and a half with different cultural celebrations," Hemm said. 
"I think it gave a lens into Pinewood's community and spirit overall."     
A significant part of the "Sankofa: Africa to America" assembly was the participation of Pinewood's Black Student Union, which comprises of senior Myles Fox, junior Autumn Porter-Schulz, and eighth grader Derrick Harris. 
Porter-Schulz says she was especially impressed byOriki Arts's educational representation of the African diaspora, where dancers in traditional African clothing  performed to music. She hopes Pinewood further celebrates African American culture.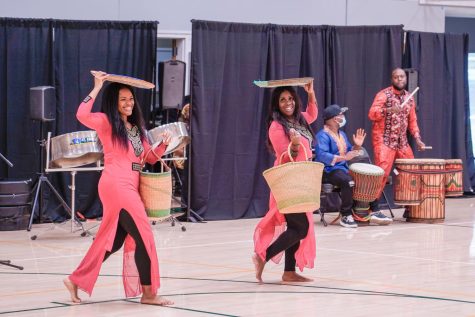 "I hope that, with these celebrations, there are more and more people that receive a deeper understanding and more of an appreciation for African American history," Porter-Schulz said.
Along with Porter-Schulz, Hemm wants to commemorate African American culture in the most authentic way possible to honor its history and educate the community.
"We want to celebrate Black history in a way that is true to history, showcasing the trauma, but also the resilience… the moments of tragedy… [and] the moments of joy," Hemm said. "This musical landscape of the history did all of those things, and so we wanted to bring that to the community to bring that history to life."