Sabrina Strand: Master of the Arts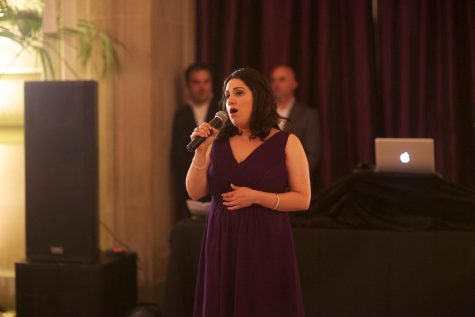 Have you ever wondered about your teachers' lives outside of the classroom? While you might know Sabrina Strand as your writing or literature teacher, you probably didn't know she is also a singer and award-winning writer. 
Surprisingly, Strand never planned on being a teacher. At 22, Strand started her teaching career with a program called Teach for America, where she had the opportunity to teach in underprivileged areas for two years. Strand noted this was a difficult experience; she was teaching students who had never had an education and didn't know how to behave. However, she ended up finding this experience fulfilling in the end. 
"There [were still] a lot of aspects of teaching that I loved a lot," Strand said. "I realized how much I love the relationships with the students and how much I loved getting across my love for reading and writing." 
This inspired her to move forward with her teaching career, eventually leading to Strand's current job as a teacher at Pinewood. 
Strand has been writing her entire life, so she loves to share her love for writing with her students. In high school, Strand was the editor in chief of her school's newspaper. She then went on to major in journalism at Northwestern University. 
Additionally, she has won multiple awards for her poetry over the years. Strand's poem, "Your Daughter is a Full Moon," was placed in TulipTree Review's "Wild Women" contest, where it was published in their 2020 spring and summer issue. The poem then went on to be nominated for a Pushcart Prize. More recently, Strand's poem, "The Gardener," was featured on Teach for America's Instagram post. Check out her Instagram, @sabrinastrandpoetry, where she posts her poetry collection.
Along with her love for writing and teaching, Strand also has had a love for singing and performing ever since she could talk. 
"If I were not a teacher, I would be a performer," Strand said. 
The president of her choir in high school, Strand continued her passion through college, where she started an a cappella group called X Factors that still exists today.
At age 26, Strand tried out for American Idol, and at age 30, she tried out for the Voice with some of her friends. Although she didn't make it through, Strand says it was a fun and memorable experience.
Strand is a multi-talented woman, but she will always choose teaching over her other passions.
"I absolutely love teaching and I don't know that I ever would want to stop altogether," Strand said.