Eighth Grade Play, "SpongeBob SquarePants: The Broadway Musical," Comes to Pinewood
The annual eighth grade musical is in the works, and if "nautical nonsense be something you wish," come watch "SpongeBob SquarePants: The Broadway Musical." The show is an adaptation of the "SpongeBob SquarePants" television show and takes place in the well-known Bikini Bottom. The show begins as a typical Bikini Bottom day but life takes a twist when Perch Perkins the news reporter predicts a volcano, Mount Humongous, will erupt within 48 hours and everyone is ordered to stay inside. Instead of following instructions, SpongeBob wants to prove that he's not "just a simple sponge" and attempts to save the day.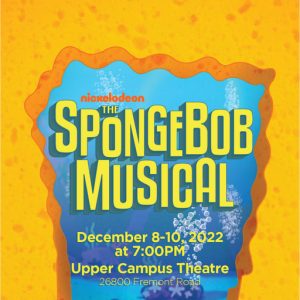 While a typical school musical is rehearsed after school, the eighth grade musical meets during school hours because it's a performing  arts elective. The class gives students the opportunity to explore musical theater without having to miss after-school activities. Eighth grader Ryan Gustavson, who plays SpongeBob, enjoys having rehearsal during class time.
"It's a fun break from normal classes [because] you can move your body around and it's fun to hang out with [friends]," Gustavson said.
Director Carrie McRobbie also enjoys introducing the students to the performing arts world and partnering with Performing Arts Department Chair Katie Linza.
"We divide and conquer," McRobbie said. "Everyone has something to do during rehearsal. The end of class is like a show and tell where we put together and show each other what we've been working on."
Eighth-grader Claire Wu, who plays Sandy Cheeks the Squirrel, has really appreciated the divide-and-conquer approach.
"It's more professional than middle campus… and we never really worked on music and it's different [focusing more] on music," Wu said.
"SpongeBob SquarePants: The Broadway Musical" will be at the Pinewood Upper Campus theater from 7-9 p.m. on Dec. 7-10. Tickets will be available through the Student Weekly Notes.