To Our Senior Editors: Thank You!
Samantha Hsiung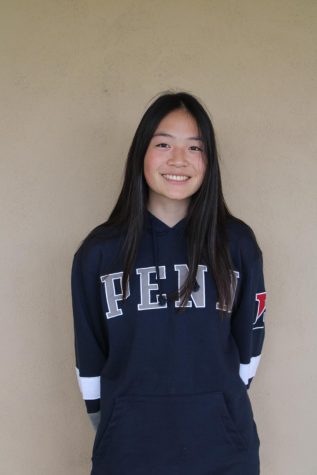 If you've ever spent even five minutes with Sam, you know that her humor and passion are infectious. From her insistence of calling everyone, including Ms. Wetzel and Mr. Jezak, "dawg" to her (quite loud) declarations of love for the cats of satirical Purrrennial issue, Sam brightens every layout, brainstorming session, and staff meeting. I'm also continuously awed by Sam's dedication to The Perennial. Although she has a ton of work in layout, Sam is always willing to pick up slack, often going out of her way to help design entire pages when staff members are missing or answer InDesign questions. She has consistently stayed up half the night to create hot pink presentations, to handle paper-related panicking situations flawlessly, and to write stories about high speed winds in one night. Above all, Sam is incredibly thoughtful. Between helping editors and staff writers, Sam is always looking to help others whether through google doc comments during editing week or giving absolutely fabulous advice. Between her commitment to the paper and glowing humor, Sam has been the glue of The Perennial. In layout, for example, she perfectly balances adding to the chaos while mentoring editors and chatting with Ms. Wetzel about upcoming issues. There will be a Sam-shaped hole left in the heart of the paper when she graduates. Sam, I'm so glad I've had the privilege of making hot pink presentations at 1 a.m., arguing about the incredibly stupid articles we send each other, and leading The Perennial with you. Thank you for being an amazing editor-in-chief, and we will miss you greatly next year. 
– Karina Aronson
Oscar Barnes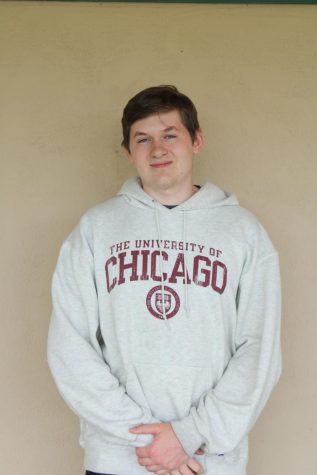 When I first saw you on Zoom, I was a little … frightened, to be honest. Here was this really smart sophomore nerding out about AP style, spending his H period teaching this freshman who had minimal experience using it. But, like everything you do, you ensured I was comfortable with the content and was willing to answer any questions. You are filled with infinite kindness. This is exemplified during layout. You are always asking if I need any assistance formatting my page and giving me tips. When I had difficulty laying out my page for the March issue, you sat by me and walked me through the process step by step. You are also an amazing person to co-lead the News section with. You always fill me in on anything I need to know, and when times have been tough, you are always by my side, going through everything with me. In general, you make things run in a much smoother manner.
You are also one of the brightest, funniest people I have ever met. You are always laughing and smiling in the hallways, during journalism meetings, or when we are just chatting. I enjoy spending some of my H periods with you and will greatly miss you next year. Please keep in touch! I hope you do not freeze to death in Chicago next year! The Perennial will not be the same without you.
– Raghav Ramgopal 
Sally King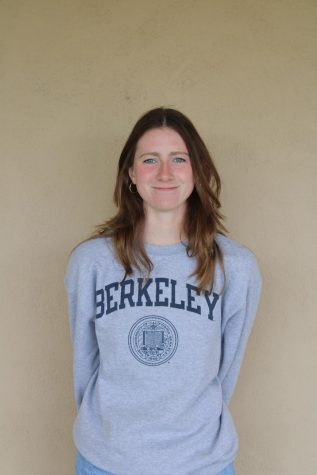 It would be impossible to picture journalism this year without our precious Editorial Director and Web Editor: Sally King. Sally is one of the most hard-working, dedicated, and passionate people on staff. From staying until 8 p.m. on two school nights in order to lay out an extra page to looking over every article of every issue in order to approve them for the web, Sally's diligence and work ethic truly know no bounds. Sally is also the best team player you will ever meet; she always steps in when there is something that needs to be done, she brings incredible ideas to the table, and she always graciously shines the spotlight on her writers of the month. On top of all of that, she does everything cheerfully and without complaint; even in the most despondent hours of layout, Sally is a ray of light, cracking jokes with her signature sharp sense of humor and helping others with their InDesign struggles even while she is at a breaking point herself (although she does let loose the occasional feral growl). What will the Perennial be like without Sally King? A few words come to mind: devoid of color and personality, heartless, cold, dank, boggy… but we move forward, albeit without one of the paper's strongest staff members. To our wise, witty, and lovely Sally, thank you for everything you've contributed to the Perennial and we will miss you infinitely!
– Sophia Yao
Nate Martin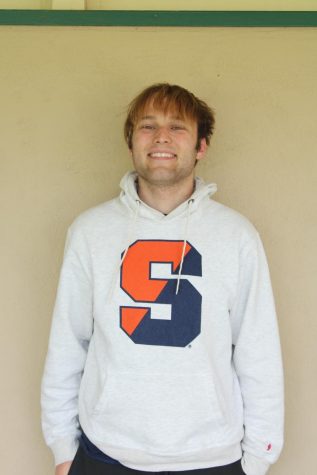 There is never a dull moment when Nate is around. Throughout the past few years, I have had the opportunity to get to know Nate in multiple ways, from journalism to student council. From when I met him during the fall play during my freshman year to working closely with him on the Student Leadership Committee and journalism staff this year, Nate's funny personality and genuinity have made him the backbone of every team he's been a part of. Outside of the Perennial staff, Nate has never failed to make me laugh and always brings so much energy to everything he does. As an editor, I remember him being on aux all night at layout and shedding light on the hard work all the editors were putting into getting the paper ready by cracking jokes and keeping everyone excited and engaged. Nate has taught me to try and have a positive attitude regardless of the situation and to persevere through hardships. After his PDA article during the April Fools issue last year, we all saw how talented and creative Nate is as a writer. His exceptional work during that issue inspired me to find my voice and style for my own satirical articles. As an editor, I saw Nate be an amazing mentor to a group of almost all new writers this year, and as the copy editor of his Sports section, I saw firsthand how much his writers improved. This could have been possible without Nate's guidance and leadership. I think I speak for the entire journalism staff when I say that we will all miss Nate and his unmatched energy when he graduates later this month. 
– Prisha Mohapatra
Skylar Chui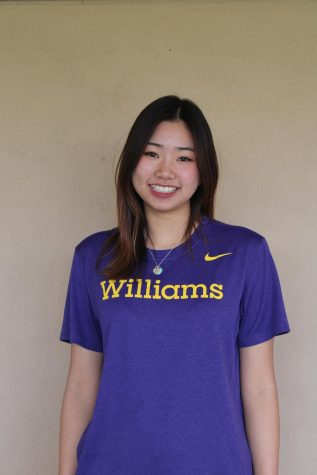 When I imagine the ideal person for the role of Creative Director, my mind immediately turns to the one-and-only Skylar Chui, otherwise known as the girl who made star pimple patches cool again. I've known Skylar since third grade, and she has never failed to impress me with her artistic talent and eye for design. Whether she displays her skill through quick-and-dirty sketches or well-thought-out portfolio pieces, she always produces work that is well beyond anything I could ever dream of creating. This year, Skylar's contributions to The Perennial have been paramount to the improvement of our newspaper. Her clever ideas, ambitious layout plans, and amazing comic strips brought life to every issue we published. Despite this, I admire Skylar's selflessness, dedication, and passion more than anything else. While the editors were scrambling to finish their layouts one night, she sat on the couch in the back of room 17 and drew countless cats and art features to fill up the empty space in our April Fools Issue. Not once did she bat an eye at an absurd request or deny an editor of what they desired. More importantly, I appreciated how closely she connected with each and every one of her illustrators. Everytime she presented the Illustrator of the Month, she would go beyond just what they produced and acknowledge their perseverance, timely communication, or blissful creativity. Skylar, you will truly be missed by everybody on The Perennial staff, and I have no doubt that you'll go on to do bigger and better things at Williams.
– Jolyn Ding