Nate's Predictions for March Madness
 I've put this pressure on myself to correctly pick the winner of March Madness. It shouldn't be that hard, right? You have 68 teams to pick from, and realistically, only a fifth have them really have a shot of winning it all. But I have never been able to do it — I haven't even gotten close. The large majority of my championship picks have lost in a heartbreaking fashion. Whether it be Virginia losing in the biggest upset in college basketball history or Kentucky getting eliminated by No. 15 seed St. Peters last year, it just feels like I'm cursed. Yet, I'm still here, sitting at my desk, staring at an empty bracket, ready to get my heart broken by the cruel, unpredictable, and thrilling beauty that is March Madness. Join me as I try to correctly pick my first ever winner.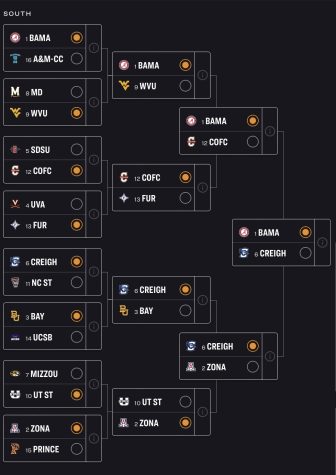 Starting off in the South Region, I want to address the elephant in the room. And by elephant, I am going with the very literal meaning of it. The Crimson Tide is your No. 1 overall seed in this year's tournament, despite their best player and Freshman Of The Year candidate Brandon Miller having his gun used in the murder of a 23 year-old mother by his teammate. This horrific incident — along with the subsequent handling of it by both the team and head coach Nate Oats — have made The University of Alabama the villains of this year's tournament. That and also because they have been one of, if not, the best teams in college basketball. Oat's signature offensive style, coined as Ball & Oats, emphasizes shooting for value, meaning a lot of threes and shots close to the basket. You will not see a mid-range shot coming from a player in crimson and white. Combine this with a top five defense in the country and you can see why I have them winning the South.
Elsewhere in the region, I have a bit of chaos. For starters, Charleston matching up with San Diego State is a 5-12 upset that I love. The Charleston Cougars are known for their three-point shooting and defensive efficiency, two things that typically bode well in March, especially for the underdogs. They also have only lost two games since Nov. 11. I'm riding with the hot hand and taking them to my Sweet 16, with a win over Virginia. 
Finally, in the South, I have the Creighton Blue Jays as my other Elite Eight team. The Big East has a very strong case to be the best conference in basketball this year, and Creighton was the preseason favorite to win it. Well, after a rocky start to conference play due to star player Ryan Kalkbrenner being out due to Mono, Creighton has bounced back and is 11-3 in their last 14 games of the season. They have one of the best starting rotations in the country, with all five starters averaging double digit points per game and the most efficient defense in the Big East. This, along with a favorable draw against a weak No. 3 seed in Baylor and an Arizona team with a questionable defense, gives Creighton a spot in my Elite Eight.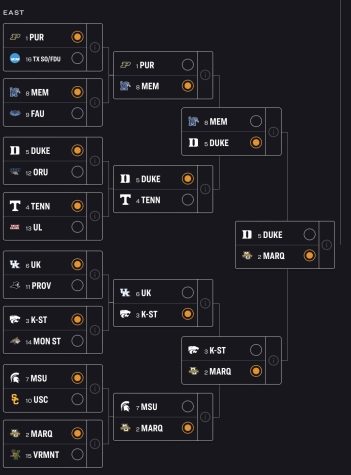 The East Region was the hardest to pick, but not for the reasons you might expect. No. 8 seed Memphis upsetting Purdue was an easy decision, as Memphis has one of the best presses in college basketball, and Purdue struggles against the press. I also love player Kendric Davis and could very well see the undersized guard ending up as one of the faces of this year's tournament. However, matching up against a red-hot Duke team in the Sweet 16 is one of the hardest picks that I had to make in my bracket. It's going to be a close game but in the end, I have the Blue Devils moving on to the Elite Eight. 
On the other side, Marquette as a No. 2 seed in a regional that ends at Madison Square Garden is something that excites me. After all, they won the Big East tournament there last week in convincing fashion. Head coach Shaka Smart is one of the brightest minds in college basketball and his squad is filled with bucket getters. Four players on the team average double digits, including Tyler Kolek, who is one of the best facilitators in the country. This offense, along with their depth and physical defense, makes the Golden Eagles a threat in March and an easy lock for the Elite Eight, because of a weak side of the bracket. They will also beat Duke in New York, as I trust head coach Shaka Smart and Marquette's experience over Duke's many key freshman contributors and first-year head coach Jon Scheyer.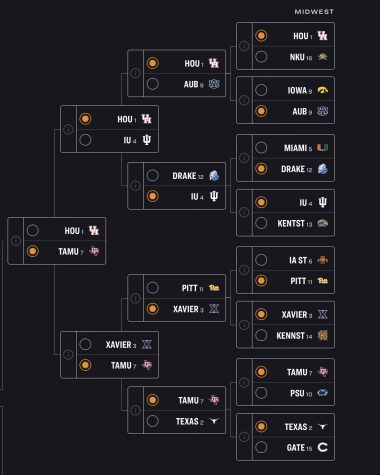 In the Midwest Region, the state of Texas will reign supreme. Both my Elite Eight teams come from the Lone Star State, with Houston and Texas A&M both playing a brand of basketball that does well in the tournament. Both teams play a defense that can frustrate any opponent and are two of the best offensive rebounding teams in the country. Texas A&M, especially, will be playing with some fire after winning 16 of their last 19 games and only being given the No. 7 seed despite finishing second in their conference. They face a tough road in this region, starting off with a strong Penn State team in the opening round before likely playing Texas in the second round. Texas, after firing their head coach mid-season, has been on a tear and is a popular pick to win this region. However, this is a rivalry game and you can always count for chaos in a game between two teams that hate each other. The Aggies will win in a close game against the Longhorns before making easy work of a weak No. 3 seed in Xavier. 
On the other side, I have my second fifth versus No. 12 seed upset in Drake over Miami. If I had to bet on No. 12 seed winning — and there always is one that does — it'd easily be this one. Drake is an experienced team that plays basketball the right way. They don't turn the ball over, they shoot lights out from three, and have a feel-good story in father-son duo Darian and Tucker DeVries. What more could you want? Miami may also be missing one of their best players — Norchad Omier — who was a crucial part of their success in the Atlantic Coastal Conference (ACC). However, Drake ends up losing to Indiana who, after facing a tough first round matchup against Kent State, faces Houston in the Sweet 16. Despite Trayce Jackson-Davis likely being the best player on the court in this game, Houston beats the Hoosiers to face their in-state rivals in Texas A&M.
In what I think will be the best Elite Eight game, I have Texas A&M beating Houston to punch their tickets to the Final Four. A&M's offense draws a ton of fouls and Houston commits a ton of defensive fouls. The free-throw line will be the difference in this matchup and the Aggies become the ninth No. 7 seed or lower to make it to the Final Four in 10 years.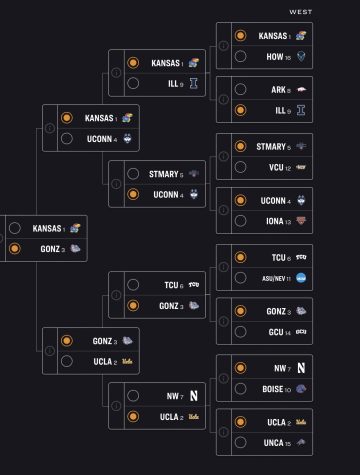 Last, but not least, let's go through the West Region. In what many are touting as the best region in the tournament, I have everything up to the Sweet 16 going relatively straightforward. The only lower seed to win their opening round matchup will be Illinois against Arkansas. In the second round, I also have all the higher seeds winning their games, setting up a Sweet 16 with the top four seeds in the region. The Sweet 16 continues this trend, with Kansas beating a strong No. 4 seed in UConn. However, I have a slightly under-the-radar and red-hot Gonzaga team beating UCLA. If the Bruins didn't lose their best defender in Jaylen Clark, I would likely have them in my final. However, this loss is one that will affect the team in a major way and, because of that, Gonzaga will beat them. 
In a showdown between two blue-bloods, I have Gonzaga beating the Jayhawks to make it to their third consecutive Final Four. Despite this being one of the worst Gonzaga teams coach Mark Few has had in a while, the group has gotten hot at the right time, and player Drew Timme always seems to perform well under the lights of March.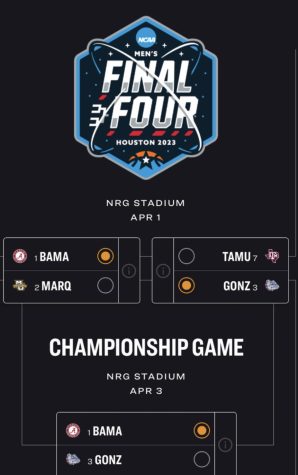 So, the Final Four is set. I have Alabama, Marquette, Texas A&M, and Gonzaga as my last four teams, with only one of them having the honor of being my champion. And in the end I see Alabama lifting the trophy. This decision is one I'm not happy with. I don't really have a reason to root for this team considering everything that has happened off the court. I also don't like the Southeastern Conference and always hate to see them win anything. Yet, everything about this Alabama team on the court just makes too much sense. They win games in convincing fashion, have one of the most talented rosters in the whole tournament, and are just fun to watch. I have them beating Gonzaga who, in this scenario, would have lost three national title games in a row. 
Knowing my luck, anything could happen, and Alabama could easily lose to Texas A&M Corpus Christi in the first round (a cynical part of me wouldn't hate this either). Yet, that's the magic of March. Anything could happen, and we, as fans, just have to be ready for whatever madness comes. Happy March Madness, and may we all have a perfect bracket!