Best Years To Come For Panther Basketball
Basketball has always been the pride of Pinewood. Despite the exceptional education, tight-knit community, and endless extracurriculars, Pinewood is known for its prowess on the court. While often being overshadowed by their female counterparts, the boys basketball team has nearly matched their performances this year. Heading into a crucial stretch of the season, the hope of a Central Coast Section championship is lingering for both teams. 
Girls basketball coach Doc Scheppler is frustrated with his team's bad luck.
"We've had to go through with three ineligible players and three girls down with knee injuries," Scheppler said. "Out of our 14, that leaves eight girls left."
Due to his significantly shrunken roster, Scheppler has had to put in players he believes should slowly be integrated into Open Division basketball. He knows this is a transition year for his young team that is brimming with potential for the future.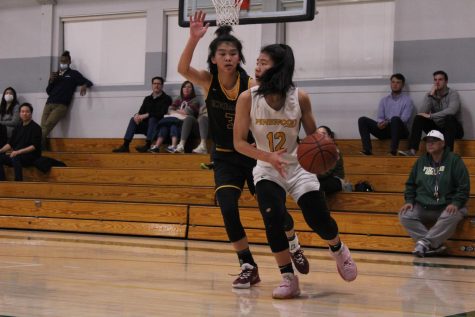 "We're asking girls who just joined the program to step into a bigger role that they weren't expected to have," Scheppler said. "[Freshmen Lita Fakapelea and Luisa Tava] have done an excellent job of playing at the standard we expect from our players."
In terms of this team's goal for the season, assistant coach Kiki Nakano preached the importance of taking it step by step.
"Celebrating the little wins and taking it day by day, practice by practice, and game by game. That's how we're going to win games," Nakano said.
She said this was crucial in pushing a team that has been depleted of so many key players. Nakano and Scheppler said that three players are really stepping up right now.
"[Sophomore Jolyn Ding], [Senior Ava Uhrich], [Junior Alex Facelo]. They make a huge difference whether they're on the court or not."
Similarly, boys basketball had two dynamic freshmen came in, and were ready to put the previous year's playoff loss behind them. 
"[Freshmen Thomas Meehleib and Josh Tian] are the future of Pinewood boys basketball," head coach Larry Williams said. "Both boys were very talented eighth graders and have adjusted to the fast pace and physicality that comes with varsity basketball. We are building a great program and these boys will lead the way."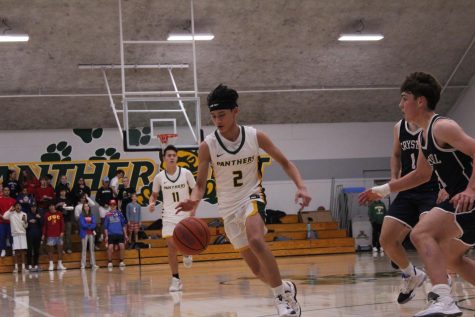 While the boys team has vastly improved due to these phenoms, Williams believes it is due to the entire team willing to grow together. On their improvement, Williams said he feels good about the team and their steady progress.
"They are continuing to grow together on the court. Our offense and defense keep improving."
While this team continues its charge to playoffs, it will be relying on its experienced players to guide them through unfamiliar territory. When asked who he expects to lead the team, Meehleib was quick to reference a pair of upperclassmen.
 "McKellar [Reed] and George [Textor] have been in the playoffs before, and know how to use leadership in order to win us games."
While both the girls and boys teams have endured struggles, the motivation to make a deep run in the postseason is as high as ever. Through determination and teamwork, they plan on extending their season as long as possible.