Mia Su: Besting The Breaststroke
If swimmers were ranked from a scale of one to ten with one being the casual public pool swimmer and ten being some of the best swimmers in the nation, eighth grader Mia Su might break the scale.
Su's swimming endeavors started at the age of six months old, when her parents placed her in swimming lessons so she wouldn't drown. Fast forward to today, and Su has been competitively swimming for seven years. Along the way, Su has picked up some remarkable achievements, winning competitions and smashing records. One of these records came at the age of ten.
"When I was ten, three people from my swim team and I broke the National Age Group Record for both the mixed 200 yards medley relay and the mixed 200 yard freestyle relay," Su said.
The group broke their own 200 yard medley relay record, a time of 2:01.76, set just a few months ago. They improved that time to 2:01.64. The previous freestyle relay record was a time of 1:49.76. Su and her teammates broke that record with a time of 1:49.51.
Such competitive swimming brings both enjoyment and stress to Su, as the dedication and work required for good results often takes early mornings and late nights.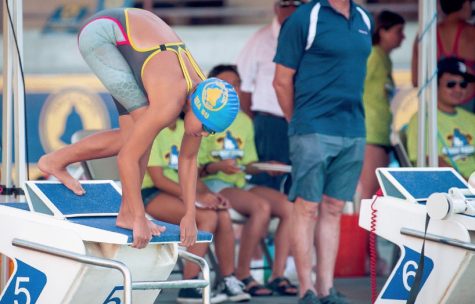 "My least favorite thing about swimming is waking up at 5:30 and going to practice at 6 on school days," Su said.
These early morning practices alone often mean a lackluster night of sleep for Su. But, adding the responsibility of doing her schoolwork, managing time efficiently becomes very difficult.
"I try my best to finish my homework as quickly as possible, but sometimes I have to stay up late and wake up early to finish studying for a test," Su said.
These sleepless nights do pay off for Su, however, since her progress as a swimmer brings her great joy.
"It's fun watching my progress as a swimmer, like my times getting faster," Su said. "It's also fun for me to know how I am ranked against other swimmers." Su's swimming career is far from over, however, as she has aspirations to continue swimming at a higher level.
 "My goal is to get to the Olympic trials cuts soon and hopefully get into the Olympics before college or during my first few years of college," Su said.