That's a Wrap on Fall Sports
As the leaves change colors from green to orange and red, the Pinewood sports cycle shifts as well. The fall season has now concluded, leaving us with countless memorable moments from the past two months. There were four sports Pinewood athletes competed in: football, volleyball, tennis, and cross country.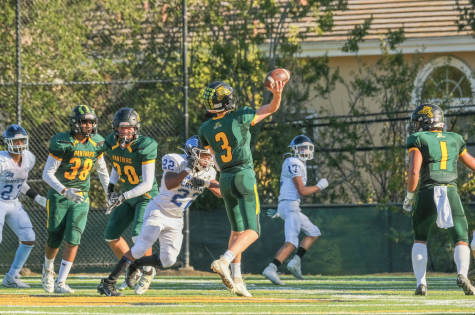 The football team started off with a bang, winning their first game of the season at home vs Laton High School with a score of 52-38. The team went on to win their next two games against Frazier Mountain and Trinity Christian. They finished the season with a record of three wins to four losses, placing them at fourth in their league.
Senior and captain Daniel Blotter commented on his team's performance throughout his final season with the team.
"I really loved this football season," Blotter said. "The bond that I made with my teammates is unlike any other."
Blotter goes on to add that injuries such as cramping affected the team and is something he hopes they will improve on in future seasons.
The volleyball team dominated their opponents throughout the course of their season. The stands for all home games were packed with many students, teachers, and parents all supporting the volleyball team throughout their games.
"I thought the season was a lot of fun," freshman Mailey Wang said. "I think we all gained something out of the season. Every player got much better and improved."
A sentiment echoed by multiple Pinewood freshmen athletes, Wang comments that the fall season was a helpful tool to get to know the upperclassmen at Pinewood as well as compete alongside more experienced talent.
The team went through several preseason games as practice for a winning season. The team accumulated six wins and only suffered three defeats.
The tennis team, under coach Craig Corfield, also competed in the fall season. They finished with a record of eight wins to only three losses, the best out of any fall team this past season.
Senior and girls tennis captain Sally King had an interesting moment that she especially enjoyed from her final season with the team. 
"[D]uring our two matches against King's Academy, we couldn't stop talking with [our opponents]," King said. "We couldn't stop laughing… They even asked us to be in their BeReal afterward," King said.
King adds that those were her favorite matches of her entire tennis career. 
Freshman Lara Parikh reflects on her first season of high school tennis at Pinewood. Parikh appreciates the kindness and supportive team environment.
"I really loved how that even when we lost, the support and empathy for those who did were through the roof," Parikh said. 
Parikh also talks about one of her favorite moments from this past season, senior night. 
"Senior night was absolutely incredible!" Parikh said. "There were some tears of happiness and sadness, but we later rejoiced in all of our accomplishments."
Last but not least, the cross country team also competed throughout the fall season. Senior Logan Thompson reflects on his final season of cross country at Pinewood. 
"Sharing fun, and painful, moments with my amazing teammates made this a really memorable cross country season," Thompson said. The team completed their final meet of the season at Crystal Springs Park.
While the fall season is now over, the winter season of basketball and soccer is just beginning, and many more spectacular moments await.